Everyone in awhile I like to remind everyone that I have a blog roll for women in ministry.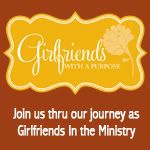 The purpose of this is to create a community of women who share things in common. We are all married to a man in ministry. It can be a lonely world but can also be oh so rewarding!
I would also like to add in your businesses if you have one. One thing I have learned is we need to support each other in all areas. So if you have an online store let me know and I will add you to the blog roll as well!!!
So in the comments below please leave your blog address or shop address. Your name :) and the position you or your hubby hold in ministry.
Then you can go to the sidebar over there <------------------ and there is a bunch of symbols and numbers. Take that add it to your blog and other women will see a place to gather. Yeah!!!
Oh and also who would be interested in a private Girlfriends With A Purpose facebook room ?
For the love please leave a comment, and let me know you are out there!!!