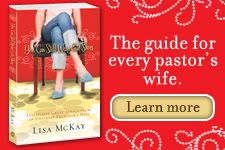 Yup yup i'm talking about this book AGAIN :)
I read an excerpt from a chapter right here.
So head over to Lifeway and read a portion of it.
This would make a fantabulous gift for your Pastors Wife, but make sure you get one to read for yourself, you may just read it and see how walking in her shoes is not what ya thought!
While your over there reading the excerpt vote for your favorite Pastors wife. I know I voted for mine (Dena). You better win girlfriend!!! You can enter your fav. pastors wife to win a trip to a spa!
Yeah! Lisa so glad this book is out there!!